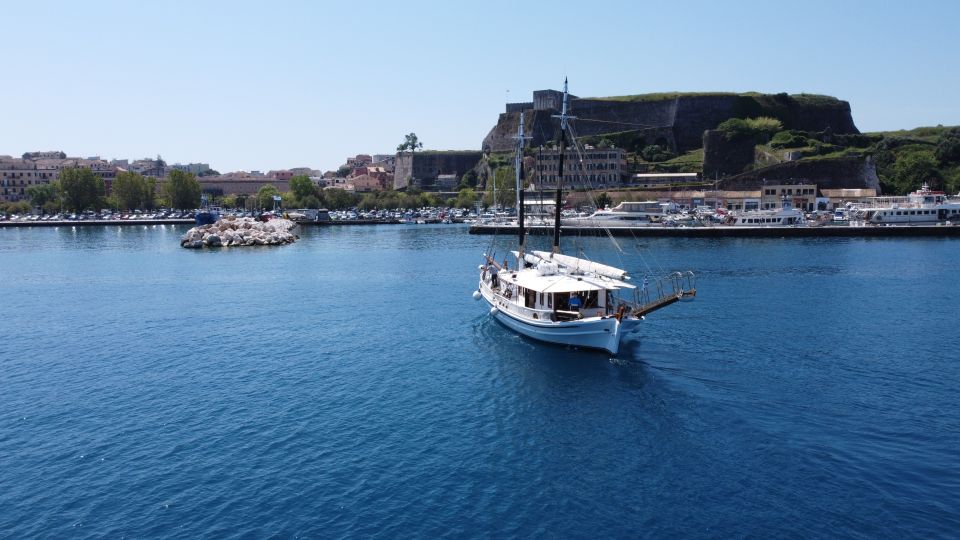 Set sail from Corfu's old port to discover the island's rich history and enchanting natural beauty. Sightsee and swim under the cliffs at Nissaki Cave and the wild orchids in the Eremitis Forest.
Embark on an unforgettable adventure as you set sail from the old port of Corfu, offering you a unique opportunity to explore the hidden treasures of this enchanting Greek island. The stunning view of the Corfu's Old Fortress and Old Town, with its breathtaking Venetian architecture, will immediately captivate you as you begin your journey. As you head towards the northeastern side of Corfu, your first stop will be at the remarkable Nissaki Cave. This hidden gem provides the perfect setting for a refreshing swim in its crystal-clear waters. Surrounded by towering cliffs and lush vegetation, you'll feel a sense of serenity while enjoying the pristine natural beauty.
Continuing your journey, pass by a plethora of impressive landmarks, each with its own unique story. Sail by Kouloura, a picturesque fishing village known for its tranquil harbor and charming stone houses. Marvel at the splendid villa belonging to the Anielli family, a testament to the luxurious lifestyle of Corfu's affluent residents. Additionally, the Kerassia Tower will come into view, a historic landmark that has hosted some of the most prominent guests, including members of the British Royal family. Before noon, you'll arrive at the bay under the Erimitis forest, a sanctuary of natural beauty boasting three protected wetlands, 82 species of registered flora, and 36 species and sub-species of wild orchids.
During this stop, you can enjoy a refreshing swim in the turquoise waters or take a leisurely stroll along the picturesque shoreline. Savor a delicious lunch served on board, featuring local delicacies and mouthwatering flavors that will satisfy your taste buds. As you set sail again, our next destination will be the iconic Peristeres Lighthouse, one of the oldest lighthouses in Greece. Standing tall since the 19th century, this historic structure is a testament to Greece's rich maritime history. Enjoy the panoramic views of the surrounding landscape, and capture the picturesque beauty in your memories and photographs. Throughout the day, your knowledgeable and friendly crew will be on hand to ensure your experience is nothing short of extraordinary.
Whether you are a seasoned traveler or a first-time visitor, this journey will leave you with unforgettable memories that will last a lifetime. Experience an exciting day filled with breathtaking scenery, natural beauty, and refreshing swims as you explore the hidden gems of Corfu.
From its rich history and stunning architecture to the pristine beaches and vibrant marine life, this adventure offers a glimpse into the heart and soul of this enchanting island. Don't miss out on this once-in-a-lifetime experience – book your spot today and set sail on a journey you'll never forget.
Experience
Discover Corfus' hidden coves and secluded beaches on a cruise from Corfu Town

Feast on a full meal onboard made with local products, accompanied by local wine

Swim in incredible bays and let turquoise waters amaze you under the Greek sun
About this activity
Free cancellationCancel up to 24 hours in advance for a full refund

Reserve now & pay laterKeep your travel plans flexible — book your spot and pay nothing today.

Covid-19 precautionsSpecial health and safety measures are in place. Check your activity voucher once you book for full details.

Duration 6.5 hoursCheck availability to see starting times.

Host or greeterEnglish

Private group available